The furore surrounding the proposed sleeve sponsorship of the English Premier League (EPL) football club Tottenham Hotspur (Spurs) by South Africa Tourism (SA Tourism) is still raging. SA Tourism is the official marketing agency of the National Department of Tourism and is responsible for marketing South Africa locally and globally.
There are many moving parts in the saga. Recent reports that the SA Tourism Chief Financial Officer (CFO) is conflicted by his alleged association with the agency that acts between SA Tourism and Spurs have heightened emotions with people in the tourism business and sports expressing reservations against the deal. Many more in other sectors of the economy are questioning the wisdom of the board regarding its endorsement of the proposal to invest R910m in the deal. Emerging reports that point to three members of the board of SA Tourism resigning owing to their desire to disassociate themselves from the proposal suggest all is not well at SA Tourism.
Let's focus on the context in which SA Tourism finds itself and on the mandate the agency is expected to deliver which is to provide for the effective marketing of South Africa as a domestic and international tourist destination.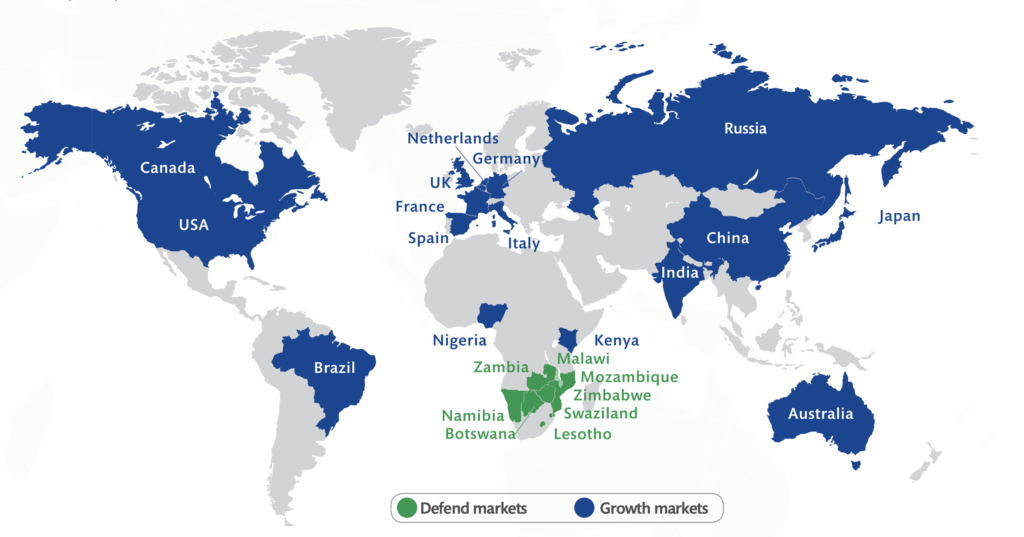 According to the United Nations World Tourism Organisation (UNWTO), the global tourism industry experienced significantly reduced international inflows of tourists and thus suffered financial setbacks because of restrictions placed on tourists by governments across the world in response to the Covid 19 pandemic. Consequently, the competitive global tourism landscape got even more competitive as countries work towards gaining diminished market share and in efforts to attract tourism revenues.
Although our borders opened mid-year and have remained open to visitors, the year 2020 saw a drop of 73% in tourist arrivals to South Africa. During the 2020/21 financial year, South Africa welcomed 2 802 320 arrivals, as opposed to 10 228 593 in 2019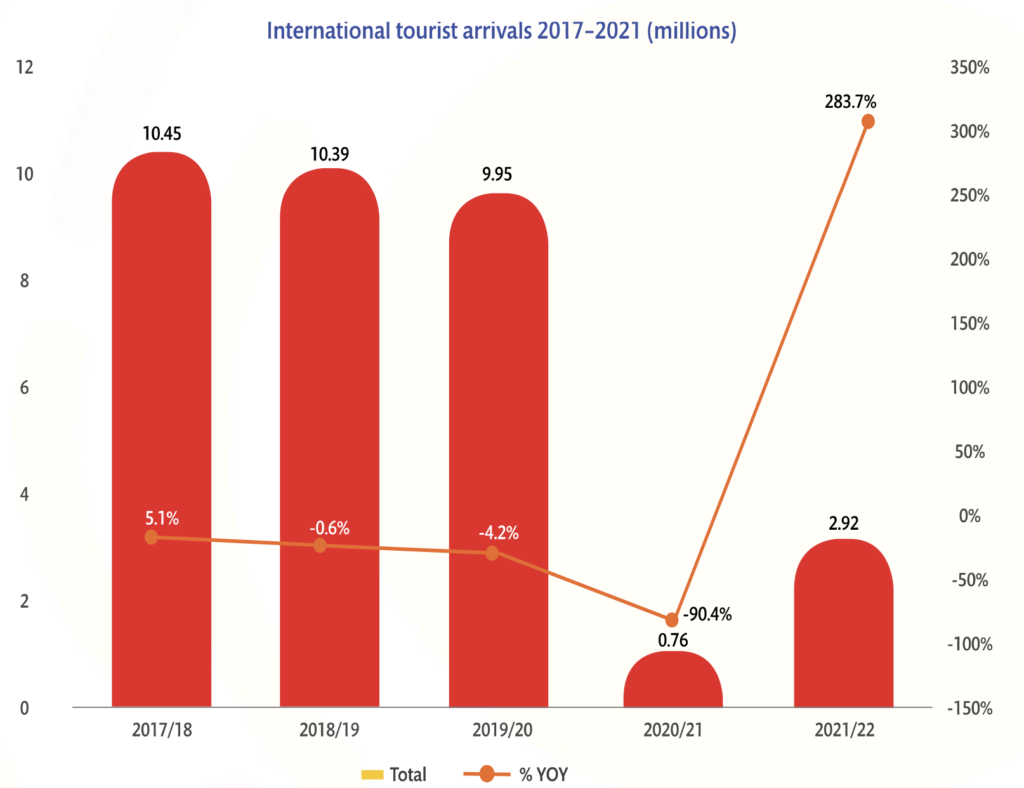 According to data from Statistics South Africa (Stats SA), over 436 000 British tourists, brought R9.4 billion into the South African economy in 2019. The United Kingdom contributes the largest share of overseas tourists to South Africa followed by Germany, USA, France and the Netherlands.
To grow visitor volumes, South Africa must invest significant amounts of money and employ well-thought-out strategies to position itself as a preferred international tourist destination. To this end, 50% of the SA Tourism goods and services expenditure goes towards media and activations.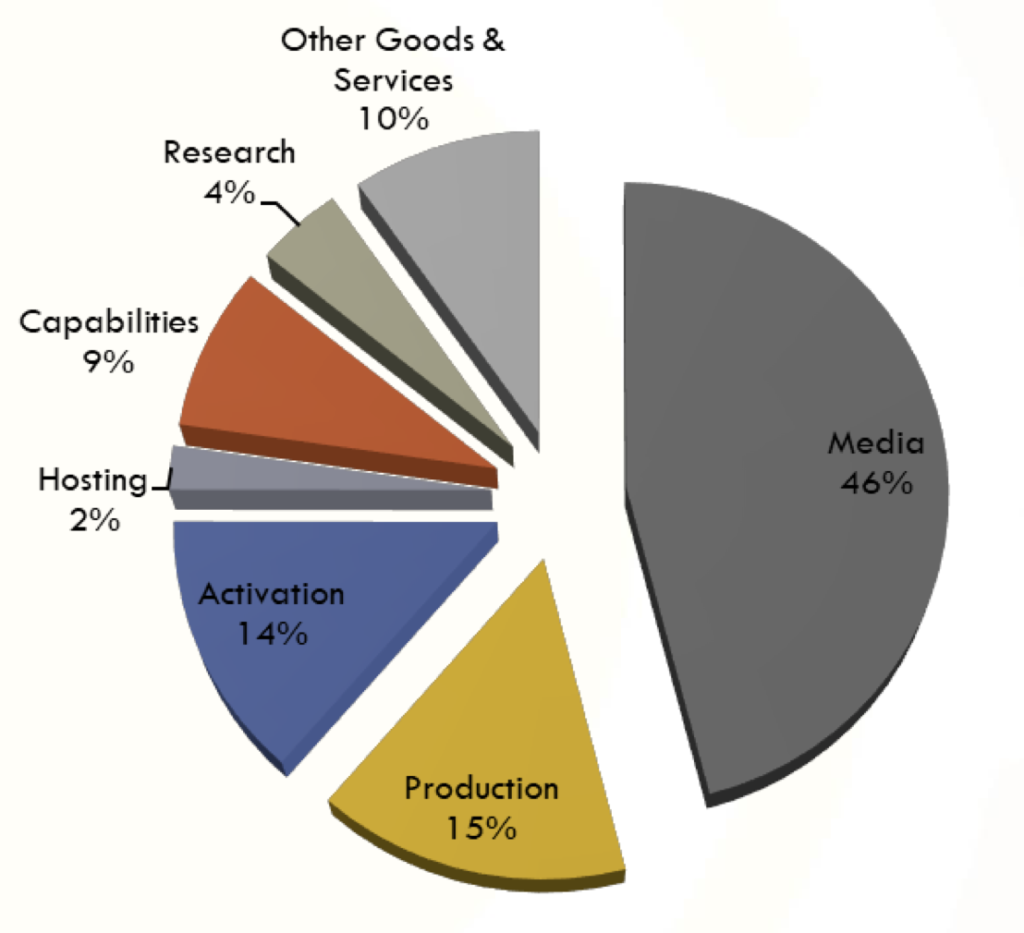 Other African Country Sponsorships
If SA Tourism goes ahead to conclude the deal, South Africa will join Malawi, Mauritius and Rwanda in using a foreign football club in its marketing strategy . In Malawi, the country's Ministry of Tourism, Culture and Wildlife concluded a value-in-kind (VIK) sponsorship agreement with a Spanish football club, Deportivo Leganes. The football club plays in the Spanish La Liga second division and displays the "visit Malawi" logo on their kit to create awareness for Malawi tourism on digital media platforms and in all the club touch points.
Like SA Tourism, the Rwanda Development Board (RDB) signed sleeve sponsorship deals with England Premier League side Arsenal Football Club and French football team ParisSaint-Germain (PSG). The deals were heavily criticized following the conclusion in 2018. The Arsenal deal was worth USD41m and would run for four years during which the "Visit Rwanda" marketing campaign would be promoted physically and on all media platforms that Arsenal used. In 2022, Arsenal renewed the sleeve agreement in which the club will receive USD40m from Rwanda. The sponsorship agreement runs until 2025.
Alongside the standard branding on media backdrops and usage of player images, the deal also included multiple activation points for Rwandan companies including:
The "Visit Rwanda" logo would be displayed on the ladies and men's national team shirts in all football matches.
Products manufactured in Rwanda under the auspices of "Made-in-Rwanda" would be exhibited at an annual event (La Semaine du Rwanda) held in Paris every year during the tenure of the sponsorship arrangement.
Tea and coffee originating from Rwanda would be exclusively served in the Parc des Princes stadium.
Brand Rwanda would be promoted at the French Travel Trade Show which is held annually.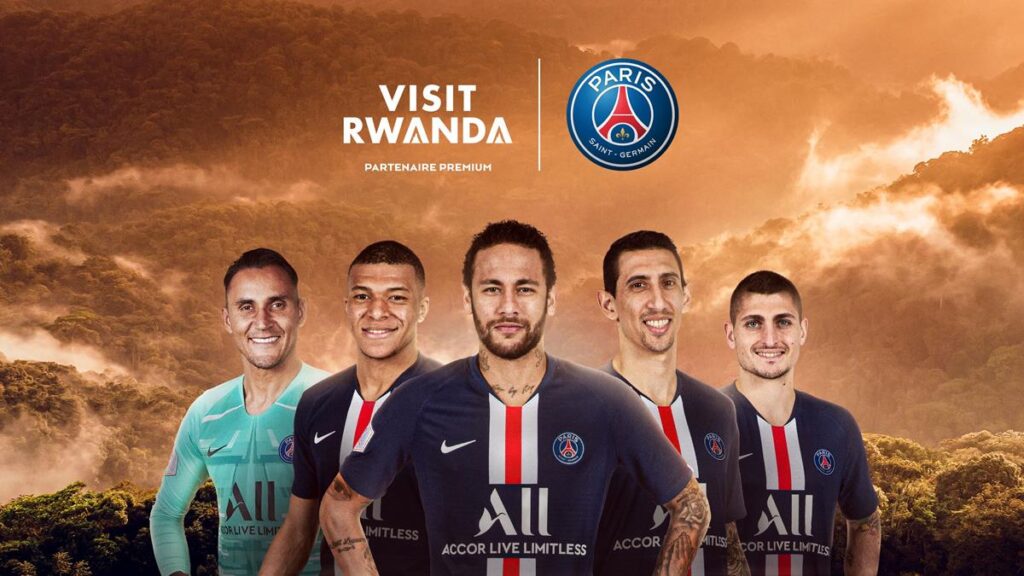 One year after the partnership began, Rwanda's tourism revenue increased by 17% and tourists from Europe increased by 22% according to Belise Kariza, the RDB chief tourism officer. This claimis backed up by World Bank data, which states that Rwanda's international tourism receipts increased 16.83% between 2018 and 2019.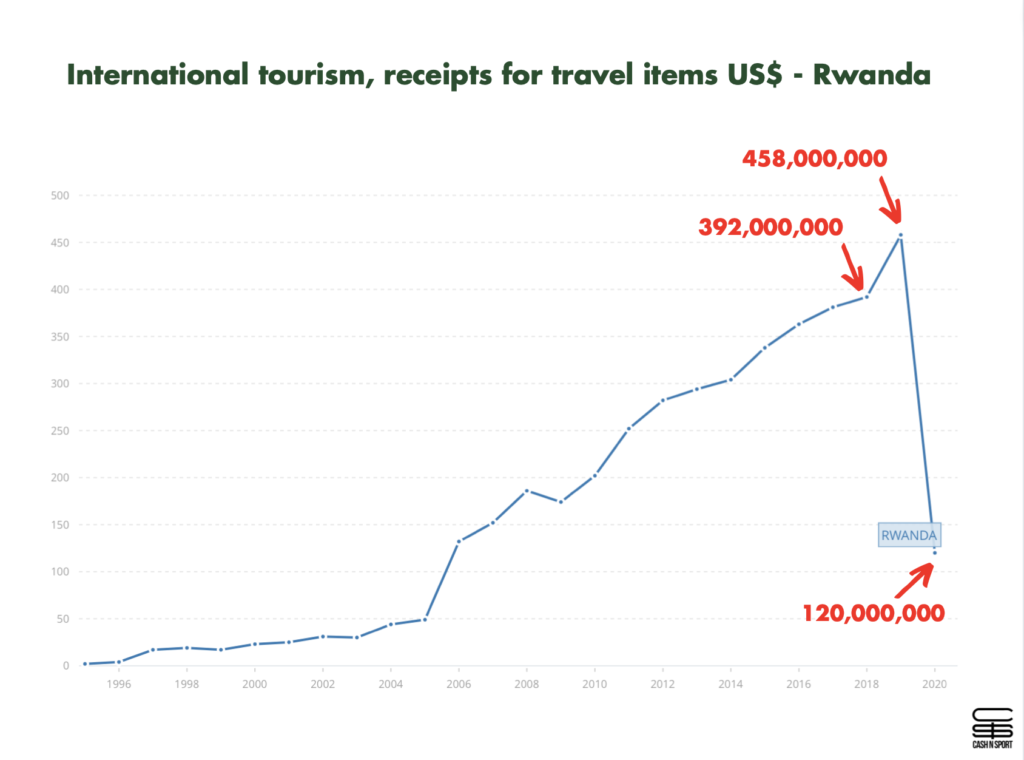 What About South Africa
Given the current global tourism market's dire situation and South Africa's 38% decline in tourist numbers between 2019 and 2022, is SAT justified in spending R910m over a four-year plan to rebuild international tourist inflows? These are the fundamentals of the SA tourism proposal.
The agreement would cost a total of £42,5 Million (about R900 million) and be split over three years, increasing from £6,5 Million (R137 million) in year one to £18 million (R380 million) in years two and three.
A comparison of this agreement and those signed with Arsenal and Paris St Germain, indicates that this is roughly 40% higher than the others. Given the two previous deals were signed in 2018 and 2019, it is reasonable to assume an inflationary adjustment would have pushed prices up.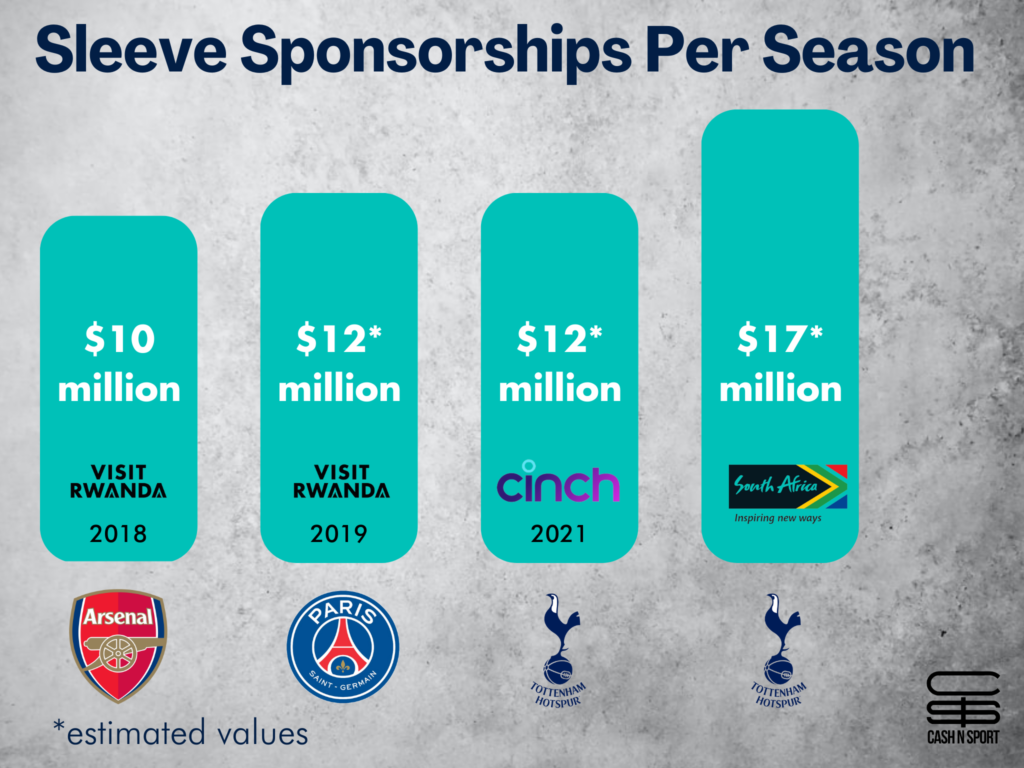 According to SA Tourism, The deal will be structured as a media deal as main deliverables of the partnership is around broadcast, digital and social media. A partnership with THFC will deliver £270 Million + (ZAR 5.6 Billion) of total media value across the term.
There would be no SAT branding on matchday playing kit in year one, instead the SA Tourism branding would be visible on training wear sleeves. In year two and three of the agreement, SA Tourism shirt sleeve branding would be visible on all Tottenham Hotspur teams, including men, women and academy teams. Branding would also be visible on retail merchandise across home, away and third shirts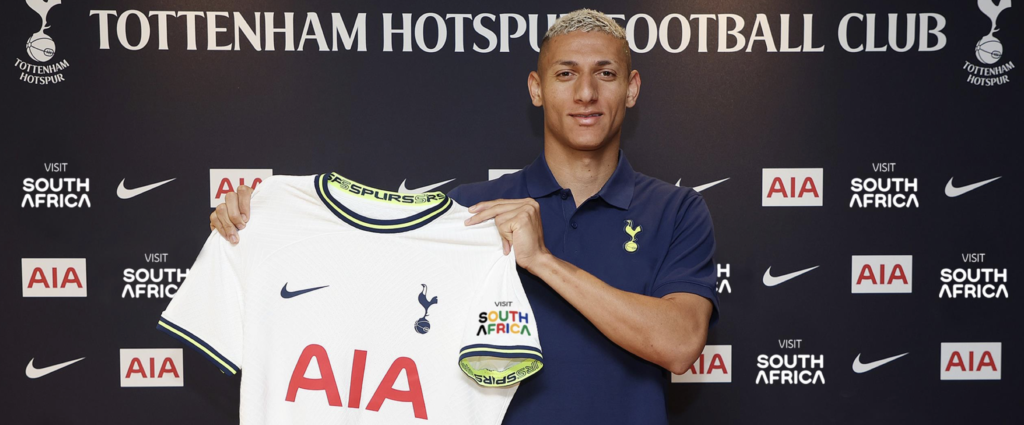 To help leverage the partnership, SAT would be allowed access to four THFC first team players (exact players to be agreed with the club) on three occasions per year for activities such as television commercials and other content production. In addition, SAT would have the right to:
The right to be the lead partner of all official pre-season tours (except Asia)
The right to 15% of all signage allocated to the Club at Tour matches in which it is playing
The right to one partner-specific PR activity during each tour
The right to have a partner delegation of up to five people present at all tours and international matches played by the first team Squad with a view to creating opportunities for the promotion of South Africa as a tourism destination
Right to organise a pre/mid/post-season Training Camp in South Africa
One VIP private Suite (18 per Suite) Hospitality inclusive of food and drinks for each Club home match and the VIP private suite can also be used on non-match days as a SA Tourism office
So, is SAT justified in proposing to spend R1 billion promoting Brand South Africa to attract international tourists and grow the local tourism industry?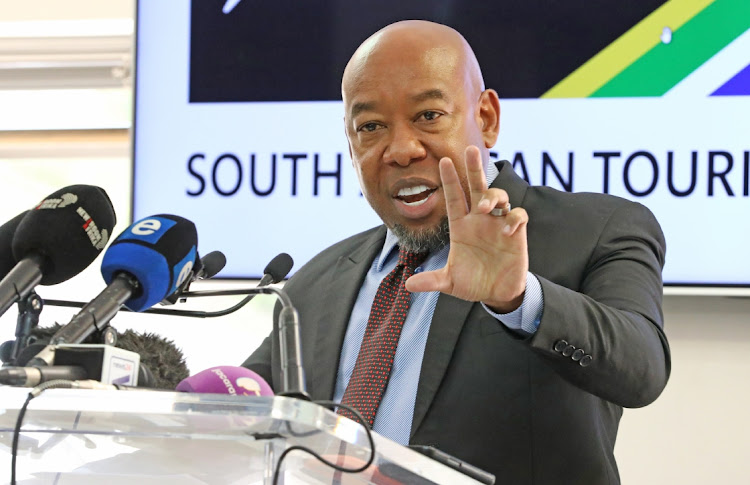 As the acting SA Tourism Chief Executive Officer (CEO) Themba Khumalo pointed out in his response to questions about the proposed deal, the mandate of SA Tourism is to "persuade international people to travel to the country and spend money in our economy, and that is what we will stick to whether it is through this initiative or another one." The strategies and initiatives employed in recruiting new international tourists and in promoting repeat business are the SA Tourism's responsibility and this money would have been spent internationally in some way shape or form.
Is this the right way to spend it? I'll let you decide..
Cheers until the next one