It's that time of year again. The time when we all realize that the extra helping of Christmas pudding and the endless supply of mince pies have caught up with us, and we find ourselves in dire need of some serious calorie-burning action. Worry not, you are not alone. According to a survey by the International Health, Racquet & Sportsclub Association (IHRSA), January is the month when the highest percentage of new gym memberships are signed. In fact, it's reported that as much as 20-25% of all new gym memberships are signed in January. This is often referred to as the "January Effect" as many people make it their new year resolution to get fit and healthy.
One of the key drivers of the fitness industry is the increasing awareness of the importance of physical fitness and wellness among consumers. As more people become conscious of their health and the impact of sedentary lifestyles, they are turning to gyms and fitness centers to help them stay active and healthy.
When it comes to gym attendance, statistics show that membership numbers have been steadily increasing as the world returns to normality post the covid pandemic. In South Africa, for example, the number of Virgin Active gym memberships has grown from 497,000 in December 2021 to 587,000 in October 2022.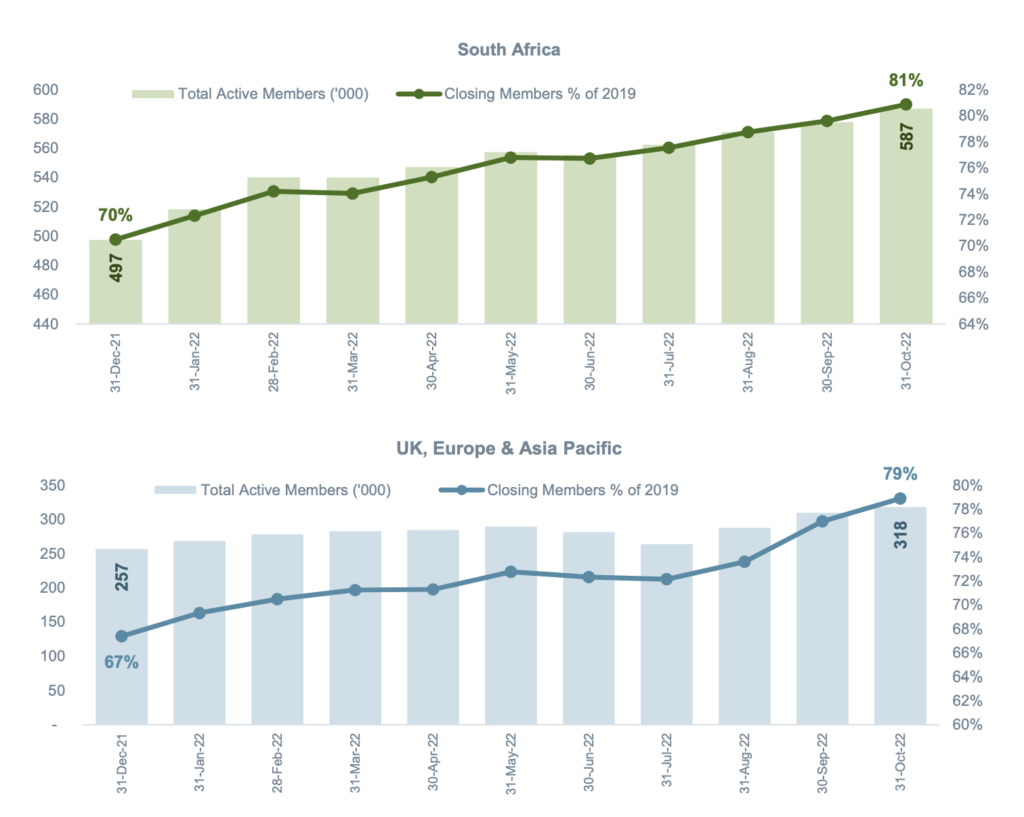 Virgin has 236 clubs in eight countries including Italy, the UK, Australia, Singapore and Thailand. It boasts approximately 905,000 adult members, with 66% of those based in South Africa. It has approximately 133 gyms across the country.
A widely hald industry norm is that each club requires about ten times the memberships it can handle to remain profitable and considering that Virgin Active currenty has about 4413 per club in South Africa, that rings true as the group made revenue of £121.7 million (R2.4 billion) in 2021.
In 2020, the global fitness market was valued at $94 billion and is expected to reach $196 billion by 2025, growing at a CAGR of 16.5% during the forecast period (2020-2025). Fuelling the growth of the fitness industry are w whole host of supplements and nutritions products whose global market size grew to $42.9 bllion in 2022 according to a report by Grandview Research.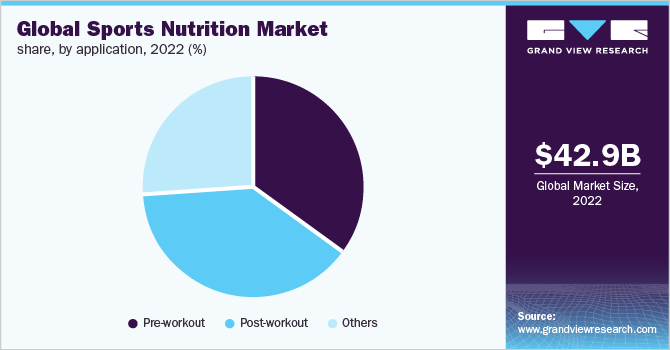 More specifically, it is estimated that the global Sports Protein Product market reached $18.5 billion in 2019, dominating the market with 85.3% of the global Sports Nutrition market. In terms of the local Sports Nutrition market, e-commerce retailing has more than doubled over the 2014-2019 period, from R13.7 million in 2014 to R28.3 million in 2019 according to a report on the South African Sports Nuutrition industry by Insight Survey
Big Attendance Drop Off
Unfortunately, the new years resolutions and caffeine filled drinks don't seem to be enough to sustain consistent attendance as most people either stop going to the gym altogether or seldomy use their membership.
According to a survey by the International Health, Racquet & Sportsclub Association (IHRSA), gym attendance reaches its peak in January, with an average of 14.8% of members visiting the gym at least once a week. This number drops to an average of 9.3% of members visiting the gym during the months that follow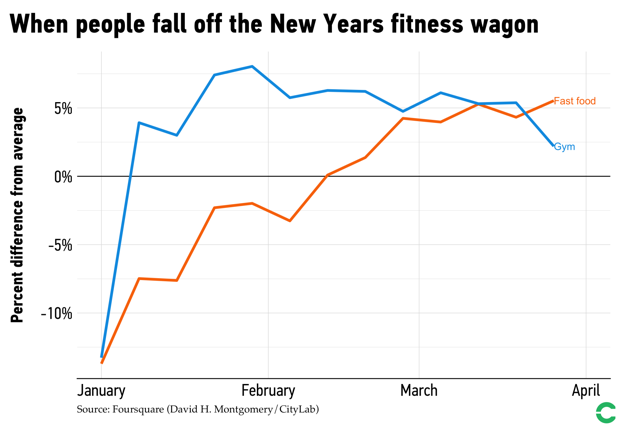 80% of gym members that join in january quit going within five months
50% of overall new gym members quit going within six months
Only about 18% of gym members use their membership consistently
Despite this, the fitness industry continues to make significant profits. This is because gyms and fitness centers make money not only through membership fees, but also through personal training, group fitness classes, and other services. Additionally, many gyms offer different types of memberships, such as monthly or annual memberships, which can be more profitable for the gym even if the member does not use it regularly.
It could be argued that the fitness industry could benefit from providing more flexible membership options, such as pay-as-you-go or day passes, which would allow consumers to only pay for the services they use. Additionally, the industry could focus on creating a more welcoming and inclusive environment, with the goal of encouraging consistent attendance, by providing more personalized service, such as creating a sense of community and providing tailored programs.